News
What Jvice Customers are saying:
I must just report back on the J-vice I received from you last year. I am really enjoying, tying on it, a lot. On my previous vice, tying was like a reasonably enjoyable job. On the new vice it is a VERY enjoyable hobby!! Thanks and have a good 2020! Newton J Vice 1731
Hi Jay,
I received the package just now. I must tell you. I am thoroughly impressed with the quality and workmanship, it's a very handsome vice. Photos do not do it justice. You have done a phenomenal job with these and I am very glad I was able to find out about you and your vise. Artin J Vice 1770 Glendale CA

Just a quick note to say that I received the JVice "masterpiece" in good order. Truly an amazing design, impeccable craftsmanship/finish, perfect functionality, and beautiful aesthetics. Right out of the block this vice felt familiar, extremely comfortable, and confident (oozing quality). Obviously, this is a function of your attention to detail and direct experience as a fly tyer/engineer. Everything is so amazing I do not know where to start. Really feel privileged to own and sincere appreciation for your efforts. Larry J Vice 1693 Bend OR
I have just received my vise, great service, thank you.
Having run a business that imports specialized fasteners from around the world for the last 30 years I have become accustomed to purchasing well made products and receiving extraordinary service from some of the leading companies in their field and I can say without a doubt that your service and the quality of your product is right up there with the very best. I know nothing about fly tying or the equipment used to tie flies but I do know a well made product when I see it. Over the years I have opened countless packages of products bought from all over the world, from the moment I opened the case containing my vise I knew that the decision to buy your vise was a decision I was not going to regret. In a world of mediocrity I am very seldom blown away these days, you Sir, have blown me away. Thank you.
Warren Stead J Vice 1667
You have completely convinced me with your vice and tool concept and I can honestly
say it is the best I have ever used (and I tried quite some vises…)! I love it and I really feel inspired by
all the talent, skill and effort you put in your design. Lots of admiration and big compliments therefor indeed!
In between the tying steps for Hans's Poly Bug I did some of my favorite CDC duns and caddis, and
greatly enjoyed handling the vice and tools. I am also fond of the wood base for organizing
materials and things.
So you will not be surprised that - If possible - I would love to follow Hans's example and go for it too!
In the first place due to your skill and the quality of your work in itself of course, but also because Hans and I work together a great deal.
We sometimes do workshops and demos together (use each other's tools and materials) and I make the tying instructions for Hans's and my own magazine articles, and the book we are working for.
We use the same materials, tools, techniques etc. Rotation f.i. with your vise is much easier and better than the Regal and therefor will be used for winding the body of the Poly Bug (step 9 or so I think ) It would be a true honor if I could complete the book instructions with your vice and possibly improve some
Best wishes Leon J Vice 1672 Holland

I have accumulated a number of tying hours on the J Vise over the last two years, with this background I am well past the initial "new item buyer delight" period of ownership.
However with your Vise the buyer delight has not diminished and each time I start tying the joy of ownership is rekindled.
This Vise is a great design, not only does it look good but using the Vise is an intuitive process, allowing familiarisation ease (like pulling on well worn gloves), this familiarity started the day I first used the Vise.
There are many good vises in the market however anyone who owns a J Vise will not buy any better.
Key point summary
This is a large vise which will be handed onto the next generation or two
Large jaws to hold securely a broad range of hook sizes (#22 [or smaller] to large salt water hooks)
The jaws cam is fast to operate and easy to load
Adjusting the rotation tension is also quickly done
Jaws can be moved to provide non concentric rotation
Components are high quality.
I have never provided feedback on any other product purchased so for me to do so is recommendation in itself. Thank you and kind regards David New ZelandJ Vice 1439
In the meantime, all I can say is "Wow!" I opened the package and was nothing less than thrilled. You did made it exactly as I wished. The base is perfect, the smoothness and finish of the jaws is unexpectedly exceptional, and the secure hold and ease of use of the knuckle/claw is outstanding. Your product is both a wonderful tool and a handsome jewel.
I thank you kindly for your patience with my questions and requests. Furthermore, thank you for generously including the nice bag. In sum, this has been nothing less than a delightful and memorable transaction. I expect I'll be returning for accessories in the future. Eric J Vice 931

"Thanks foe everything Jay!!! All your pieces are sooo nice! I love your bobbin!!!!! I also love your hackle pliers!!!!! And of course, the long fiber brush maker is AWESOME!!!! I can't say thanks enough! You were very kind to do all this for me! Thanks again, & I will recommend you to others when I can :)!!!!" Matthew Long Fibre Brushmaker 01
"the Vise arrive me last Thurday and i'm really impressed about this vise, great i'm happy!!
everthing ok with the custom and delivery!
Jay, much thank you for this great product, its my personality chrismas present!" Achim Jvice 865
"Wow!!! what an awesome vice!
I have used many vices and your vice is by far the best vice I have ever used! The midge jaws are phenomenal.
Thanks for a brilliant, quality product and outstanding service!" Geoff Jvice 853
"I am writing this to thank you for all your hard work helping me track down the vise, I really appreciate it. I just wanted to take the time to write and tell you how much I love the Jvice. Not only is it so beautiful all in brass w/ the damascus jaws, it works extremely well and has held every size hook I have thrown at it. The design and precision engineering is second to none. The goose next design makes it easy to see all sides of my fly with just a slight movement of the wrist and it is just a joy to you and just plain look at. Thank you again for your hard work and dedication I look forward to being a long time customer." Mike NY Jvice 830
"Jay I got a problem with the vice....... I can't stop making flies The vice works perfect and looks wonderful Thanks very much Andres" Santiago Chile Jvice 821
"I've been fly tying for close to forty years and I feel obligated to thank you for creating such exquisite fly tying tools. The JVise, however, is more than "just" a fly tying tool; it's nothing less than a work of supremely functional and beautiful art -- certain to provide a lifetime of enjoyment. I am overwhelmed." Don Oakland CA
"just wanted to let you know that just gave the vice its first travelling trip. One word.....awesome. love the hook holding ability. tied a bunch of clousers. 4 to 2/0. super easy to adjust." Alessandro Cincenatti Jvice 790
"Just to let you know that I received my jvise yesterday and I am very happy with it. I would like to congratulate you for making such a beautiful, and more importantly, practical vice. I know that I am going to have many years of pleasure from it. It was Faruk that actually recommended that I buy a jvise and he wasn't wrong! Now that I have tied with one I would not hesitate to recommend your vise to anyone with a passion for fly tying." Graeme Jvice 752 Quebec
"Just an update...I've been tying on the vice and everything is fine. No problems with the height as it is. The Jvice is wonderful...the best I've used and I've used quite a few! Thanks for your patients and working with me. Hopefully, we'll do bussiness again in the future." Tony Jvice 713 Oregon
"I've been tying on my new vice for a couple of weeks now and just wanted to thank you for a phenomenal tool. I'm absolutely loving your vice!" Manuele Jvice 712 Constantia
"Just a note to tell you that I can't go back to any other bobbin now. The Jbobbin is really great. It does take some tying to get used to it, but then, you don't want to go back to any other bobbin." Byron J-Bob 10
"I must say the equipment is awesome. There were a lot of things I had no idea about, but after sitting down today and using the vice I started using things intuitively - amazing piece of kit.... I was a bit concerned that I was over investing for a beginner - now I think every beginner should start like this - really makes it a pleasure and helps with the challenges of learning... " Manuel Jvice 686
The person who these items are for is Greg Thompson (owns and runs the Kubu Queen - see www.kubuqueen.com) who shows everyone who comes to his boat what a wonderful vice you have made. Greg is however left handed and therefor the request to get him a left handed base. When Chris Barras saw your vice on the Kubu Queen some years ago, he decided to order one for himself and when I saw his also decided to order one. The reason for telling you this information that your vice is being marketed on a houseboat in Botswana without you even knowing about it. I know how nice it is to get feedback on your product and therefore thought to pass this information on to you
Kind regards Derek Jvice 626
"My goods has arrived all in one piece. It arrived on Thursday. I have been admired and tried out the gear for some days now. And I must say that I am more than satisfied. The Damasteel jaw is fare above what I had expected. Pictures don't justify it's beauty. The J-bobbin is really great to work with, the angled tip is just genius. "
"Again I will use this opportunity to thank you for a wonderful product.
I have used my Jvice not far away every day now for almost a year, and there is no wear at all to be found. I am so pleased with my Jvice that it is difficult to find words that can describe it. "
Roy-Tore
" J-bobbins … No 42. Not even my Ari Hart – which I swopped for 10 cap and ring reel seats in titanium – is as special. Somehow, I think the design of the J-reel is in this bobbin design. Its beauty comes directly from its function. Thanks so much." Steve
Your vice is holding up admirably Jay........I just cant praise it enough my friend. I must have tied litterally thousands of flies on it since I got my grubby little mits on it. and not one fault either through ware and tare. Its comforting to know that I will never need another vice again in my life.....well maybe a new one for the summer cottage in a couple of years. Simon Finland Jvice 443
Collecting the master-piece vice after I spoke to you, and opening it, I was completely thrilled to see such fine engineering and quality craftmanship to detail. Not even pictures can tell you the real story of seeing or holding it. The wait for the dyed red vice was worth it in the end and very special. Heinrich Jvice: 598

"Hi Jay, Just recently I got Jvice. Vow... What are great shipment, moreover I am really surprised by the quality of Jvice.... Still looking how to attached to some peace of basement, and I as promised then I will write an review in our fly fishing forum..." Gedas Lithuania Jvice 595

"My new vice arrived on Wednesday and im really chuffed with it.
I have tied about half a dozen flies so far and I can tell im going to have many years of satisfaction tying with this finely engineered piece of kit.
I have attached a couple of pics of my workbench which I have altered to accomodate the j vice." Thomas Scotland Jvice 589

"The Vice arrived yesterday in perfect condition. It is very much everything I hoped for and little more. Even my wife - who have very little interest in our hobby - think it looks great and actually opened up for the possibility to leave the vice on the kitchen table for periods (we live in a quite small apartment) and that I believe is good feedback to the appearance of your product ;-)" BR Tobias Sweden Jvice536
 "Just wanted to say how awesome the vices have turned out to be. It is great to still be able to get such quality and has made tying a special experience instead of a chore. Have a great day."  Malcolm Balito Jvice 525
 "I received my JVise today and can't tell you how impressed I am with your work. All I can say is it has exceeded all of my expectations. I tied a little Saltwater Peanut Butter to test it out and it was an absolute pleasure to work with. I know I will have more great things to say about it in the future and will keep in touch to relay more of my experiences. Thanks so much for making so a finely crafted product, a vise that will stay in this family for generations to come." Steve Florida Jvice 531
 "Jay the vice arrived today. I'm amazed at the quality of the workmanship. You do a great job on these machines. I'm still putting it together. But all I can say is WOW." Thanks, Charlie G. USA Jvice 522
"Just wanted to say that my hard pear base has arrived :) It is beautiful. Thank you very much. I have tied over fifty flies on my Jvice now, and I am not in any doubt, this is the best vice on the market. Many thanks for an excellent product and a great service."  Roy-Tore Norway Jvice 505
 "Im sure you hear this a lot but here's my penny's worth...
You have made a truly STUNNING piece of kit here, beautiful machining, rock solid hook hold, smooooth and very very pretty too!! Love the woodwork, love the Red, love the baby hair stacker and LOVE the add-ons!" Trev UK Jvice 490
 "As I wright this I am trying out my precious Jvice and it is such a joy and ease to work with that I am lost for words. Took me less than two minutes to tye a paraloop fly. Thanks very much. I am very gratefull." Roy-Tore Norway
 "After more than 1000+ flies tied I had to write to you and give you a quick report on the JVice; appearance, quality and function. I am very happy to report that I love this vise and it has preformed flawlessly for me.... The vise design with the J-neck and the quality craftsmanship that has gone into the vise are wonderful and make tying flies almost effortless. I find the hook holding power and rotary function second to none and worth every penny spent." Doug Hilton NY Jvice 496
 "You are the Master!!! I'm in Love. What a work or Art.
The pictures don't justify your work & I will be happy to recommend it to anyone!
Thank you so much my Friend for a job Well Done.
Extremely satisfied....................All My Best" Ron Valley Stream NY Jvice 495
When I 1st saw your Vise It was Love At 1st Sight! I thought I was getting a good Vise But I am afraid I was Wrong
I got the Greatest Vise Made in the World!!
I can not thank you enough. You bring back something that this world lost a long time ago. True Quality & Honest Craftsmanship.
Your from the Old School like a lot of us who enjoy the finer things in life & worked our butt's off to try to make life better!
I love your Story & I like you know where I came from. I'm so Happy you are doing something that means so much for you & Know deep in my Heart it's not about the "All Mighty Dollar" God Bless you my Friend & It is an Honor to know you!...................................................................................................your truly Ron
 "Thanks so much for your craft man ship. I've been playing with the vise and the accoutrements all day - now to tie some flies. ;-) Wow! I'll be sending pictures of the results of some of my ties soon. Best to you and yours,"
 Bill Cambridge MA Jvice 486
"thanks yet again jay, you are a star, one of the first salmon flys i tied on your vice came second, in a fly tying comp, and i was awarded an extra prize, one of the best pieces of tackle i have bought, best regards" - garry county durham


"This is the most beautiful thing I've laid my eyes on since my son was born!!!! My vise is here, safe and sound (cool packing job!) and it seems to work flawlessly- I'll spend some time getting acquainted with it this weekend. Thank you very much, it's been a pleasure doing business with you." - Mark Acton, Ontario
"What an awesome fly tying vise, to put it onto perspective your vise is NOT a Chevy; it is more like an Enso Ferrari. Simply put, your vise is very well designed & machined. Since receiving the vise a week ago I have tied 80 to 100 flies and I just have to say that the vise is very smooth in operation, all the design features are easily controlled from the tying position. The hand rests comfortably behind the tail of the hook with in the goose neck area. The adjustment and movement of the rotary feature and the jaws is smooth and precise clamping and/or holding the hook in the desired position and securing the hook with ease. This is truly a vise for anyone at any level of fly tying, a vise for a life time." - Ted Seattle
"I received the vise today and decided you have done a fantastic job machining the vise, couldn't believe how nice the vise looks & after I tied two dozen flies on it I would rate it as my best vise and I have about 50 vises, been collecting them since I started tying. I want to thank you for the fast shipping and for answering all my e-mail." - Clyde Erie USA
"I got your new vice jaw in the mail the other day, thank you very much. I will have to say it works incredibly well. I can see the advantages to the new one, little longer nose and I think the jaw with the kerf cuts is really a great idea, hats off to you. I have been tying for over 40 years and I think this vice has many advantages over many others out there." - Dale USA
"The vise just arrived and it is absolutely exquisite! ........... You have done to the fly vise what Hardy and Bogden did to the fly reel, perfected it. This is not a vise, it's art." - Joe USA
"... good news: The vice arrived today. I am more than impressed by the reality of the vise. Phantasic, I am so happy to call one my own. You really designed a wonderful piece of tool in an art style with, out of my view, maximum funktionality. I will recommend your vice everywhere, be sure " - Klemens, Germany
"... Just to let you know that I have been using the vice to tie a lot of saltwater flies in preparation for a trip to the Seychelles. No complaints and I have a smile on my face every time I get to use it! A great product! Once again, thanks for the excellent service" . - Paul, Ireland
"...I also bought a Wasatch J vise. Now, I own nearly every variety of fly tying vise known to man including some of the outrageously expensive vices such as the Law vise from the U.K., Renzetti Pro, and my most resent purchase the Ck9000 (~$800!!!!!). All of these vises are great collector's items and are very functional but none can really hold a candle to the Wasatch J. I am always searching for a unique, well engineered, and functional vise which is what attracted me to the Wasatch in the first place. Most of the newer vises today are simple and expensive) variations on old themes and show little in the way of innovative engineering. The J is really in a category all by itself. ...In addition to the simple, elegant, 'J' hook design to align the head with the vise body for rotary applications, the jaw design is a real innovation in fly vise technology. No vise I own, no matter how expensive or well crafted can hold a hook so firmly with so little effort. Most of my expensive vises are now just 'collectors items and the J is my 'go to' vise for every application from salt water to tricos. I always recommend the J to folks looking to get started in fly tying. It really is the only one anyone would ever need. Warm alohas from Hawai`- i Tom
"..I truly like the vise and want you to know how much I enjoy working with it. It is a pleasure to use and I am showing it off to friends religiously. Please include me on any new product announcements or developments." - Keith, USA
"...Your vice is really very good. It is less only a vice than a complete fly tying kit, made of best ideas. I've written some words and made some photos at http://www.fliegenfischer-forum.de/flyfishing/jvice-t255982.html , so You can see how good the vice arrived at me. Maybe some more tyers from Germany will contact you in the next time, if they haven't done already. The vice combines the solidity of a Dynaking Professional with the technical layout of an Abel Supreme. It is the best vice I've ever seen, because it fits perfectly to my opinion of having joy on tying flies by yourself. Thank You, Jay, for this wonderful vice. I'm sure it will find a lot of friends, who will love it, as I do" - Markus, Germany
"........Damn !!!!! The dog sled has arrived. The vice got here on 30th, I just haven't had time to let you know. It was worth the wait ! The vise is way beyond what I thought it would be......You are on the top of my list of people to do business with !!!!!!!! THANKS AGAIN" - MIKE, Alaska
"... I bought a vice from you near the end of last year and have been amazed that I have spent so many years struggling with my old vice. It is an absolute pleasure and my tying has improved 10 fold, who says you can't blame your tools." - David, Harrismith
"...whilst I have only tied a few flies, the one feature that is pleasing is its ability to hold a hook. My first vice was a Regal and when switching to the Renzetti I lamented the loss of that mechanism, both the "one touch" operation and the holding of the hook. At least with the JVice the hook-holding ability is there." - Derrick Gauteng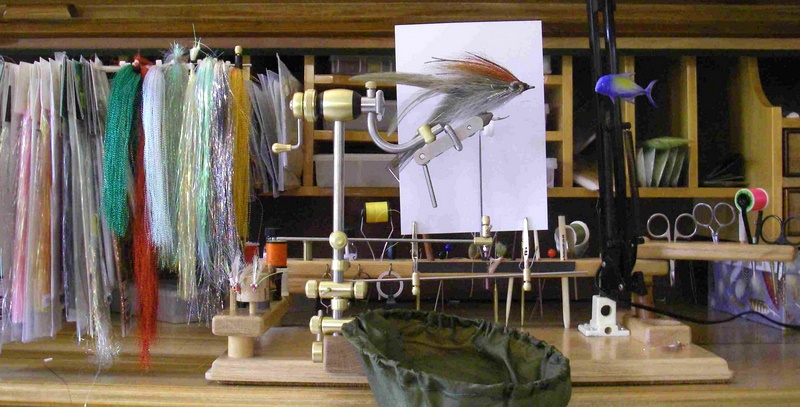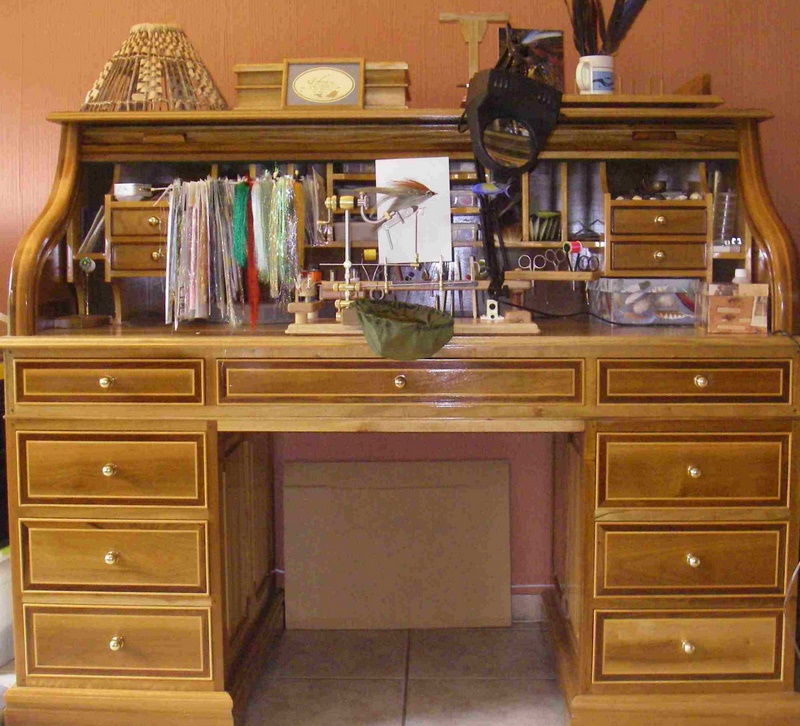 Derricks Jvice with custom made adaptor to fit his tying station.
"...I bought the JVice last year August and I would like to complement you on an excellent product, my quality and attention to detail has improved dramatically." - Walter Gauteng
"...Just to let you know that I am thrilled with your product and have been converted from a part-time flytyer to a fanatic. Many thanks and wish you all the success with it in the future. I just popped on to your website and see that you know have a backdrop card holder available? I have been making a plan up to now ......" Charles, Constantia
"... I saw the articulated deer hair stacker in the December/January issue of Flyfisherman. It seems the perfect solution for my present method of stacking deer hair ( using a Big pen casing). Could you please provide me with the cost. I really enjoy your J-Vice. Fly tying has never been such a pleasure...." - Pieter Aliwal North
"...MY vise has arrived! It's fantastic just what I had envisioned it to be! I..." - Scott, West Bridgewater, MA

"..Jvice has arrived and I am over the moon. Many thanks...." - Charles, Cape Town
"...I am absolutely in love with my vice. Thanks. Keep up the good work..." - Willem, Centurion
"... Thanx for the vice, I received it a day before you promised. I am extremely satisfied with the vice; it's surpassed all my expectations. I have been hard at churning out extended clousers for the tuna season, its amazing that I have managed so long without a rotary vice. A rotary vice should be a pre-requisite for tying.." - Karl, BELLVILLE
"...I have just received my new vice and have immediately given myself the afternoon and the evening off. I am going home right now to put my newest toy through its paces. It is a massive honor to own such a piece of workmanship. I cannot congratulate you enough with this product, its features, the simplicity of operation and the craftsmanship, especially since it is not in mass production yet. I am very happy with the fact that I now own one of the earlier (more personal) models..." - Bert, Centurion Pretoria